Welcome to the Carnival of Personal Finance. Rumor has it that 2014 might try to switch spots with 2015.
I don't know about you but I'm ready to conquer 2014 and any other year that comes at me!
In this carnival I'm going to discuss my plans (not resolutions) for 2014.
I decided to break the articles up into three categories today.
Best of.
The essentials.
The best of the rest.
Best of.
Wrestle more!
That's me tossing someone out of the ring. We had a short-lived alliance until I tossed him out of the ring. Naturally, I'm the bad guy.
I was nervous about public speaking. Imagine public speaking where you have to insult the crowd and be athletic half-naked? Yeah it's kind of scary.
This is a fun hobby that I just began in September. I'm ready to see what the next chapter is.
Jeff Rose from Good Financial Cents presents The Grow Your Dough Throwdown, and says, "16 bloggers duke it out to see which one can grow their $1,000 investment the most in one year's time."
Clint from Accumulating Money presents Your Ideas Will Fail if You Don't Emphasize Them, and says, "Many people out there in the world have great ideas about what could make quite a bit of money. Unfortunately, most of them put in a halfhearted effort in order to make their dreams come true."
Marissa from Thirty Six Months presents The Joys of Freelancing, and says, "One of the things that I really enjoy doing is mentoring freelancers. I work in the start-up world, and freelancers are a big part of that. I get to see the ups and downs of that world every day. It is fascinating to see how people price their time, and creative abilities."
Emily from Evolving Personal Finance presents Budgeting Is a Waste of Time, and says, "Do you believe that everyone should budget or are there certain financial scenarios (fixed, high savings rate) under which budgeting is unnecessary?"
Alexa from Single Moms Income presents How to Find a Good Real Estate Agent, and says, "I used watch shows like Flip this House and Moving Up religiously. I love the possibilities of finding an old home fixing it up and then trying to sell it for profit. I did it once and am itching to do it again."
The Essentials.
Travel and finally master Spanish!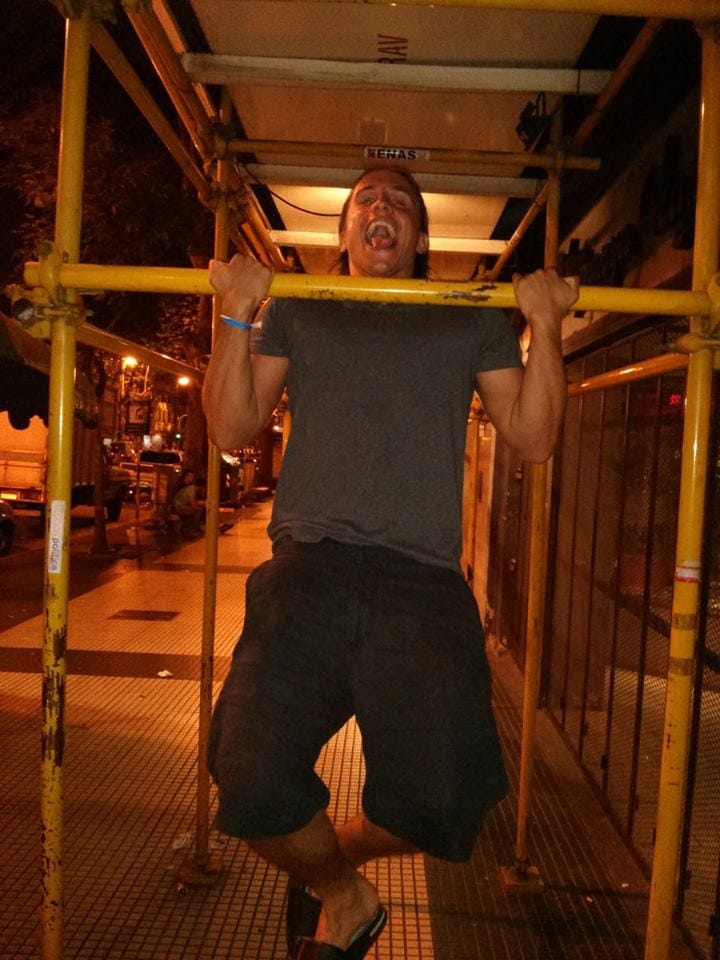 That's me doing (or attempting) pullups while on my trip to Argentina. My goal is to go on a few small trips and one big trip where I finally master my Spanish. I do lessons daily and have been working on speaking. I really want to become fluent in 2014.
Justin from Edward Antrobus presents Where's the Best Place to Store Your Emergency Funds?, and says, "One of the most commonly heard rules of thumb in the financial world is that every person should keep at least 6 to 12 months worth of expenses in an "emergency fund."
SB from One Cent at a Time presents Having a Financial Backup Plan, and says, "To meet with any unavoidable circumstances that may affect our financial life and health, we should be ready with a backup plan, the plan B. This Post talks about the important factors that constitute a financial backup plan"
Kathleen O'Malley from Frugal Portland presents My ideal working situation, and says, "What does a workday look like in an ideal world? My ideal working situation turns out to be not so far from my real life."
Natalie from Debt and the Girl presents Finding Ways NOT to Worry about Money, and says, "I have been on a mission to try and redefine myself again. I know that seems cliche but since things changed a few months ago, I have been trying to decide what would make me feel really happy at this time while finding what I want to do."
Sustainable PF from Sustainable Personal Finance Blog presents How to Limit Materialism During the Holidays, and says, "This time of year, it seems as though materialism is ratcheted up a notch. Kids see toys everywhere, and they are encouraged to ask Santa Claus and just about everyone else for more things – things that they probably do not need."
Larry from KrantCents presents Why It May Be best to Keep Working after Winning a Lottery, and says, "You purchased a winning lottery ticket and now you are a sudden multi-millionaire and your first thought as you calculate the winnings is that you will never have to work another day in your life."
Holly from Club Thrifty presents Body Language in the Workplace, and says, "What do you think about body language in the workplace? Read this post to find out what Mitchell Pauly thinks."
Lisa Park from Secrets 2 Save presents Benefits of starting to save early, and says, "Often we delay saving for retirement when we first land a job. This can be a very big mistake. In this article lets us take a few examples and try to understand why it is important to save for retirement from the get go. We will compare two cases where someone starts saving early vs someone who starts late and see who comes out ahead and why?"
The best of the rest.
Help more people!
I was lucky to have sold my rental property in 2013 for a nice profit. I can turn my attention more to helping people now as opposed to just trying to make money.
Michelle from See Debt Run presents Letting Go: How to Sell Kids Clothing, and says, "Our kids clothing contains so many memories, it can he hard to let go. When you finally do decide that its time to sell kids clothing, here are some tips."
Miss T. from Prairie Eco Thrifter presents More Drilling Is Not the Solution We Need for Our Energy Future, and says, "Try as we may – and we are – the oil is going to run out. We can see the cliff already; to continue running towards it is absolutely silly. We need to use the oil we still have in a smart manner in order to enable an oil-free future. "
Pauline from Reach Financial Independence presents 10% blog income pledge for education update, and says, "I have pledged 10% of my blogging income to go to scholarships for young students in my village. Today I will share my 10% blog income pledge for education update."
FI Pilgrim from FI Journey presents FI 101: Two Stages Of Debt, and says, "For the financial independence seeker, getting out of debt is only the first stage of our debt-elimination journey, there are TWO stages of debt lead to FI!"
Monica from Monica On Money presents Which Flooring Is the Best Financial Decision?, and says, "It is time for new flooring. What is best? Hardwood, Tile, or Carpet?"
Bob from Dwindling Debt presents Considering Lending Money to a Family Member? If so, follow these 3 Basic Rules, and says, "While this may sound a bit harsh, the best rule of thumb when considering lending money to family or friends is simply this; Don't."
Lily from Paying Debt Down presents Money Saving Holiday Shopping Tips 2013, and says, "Did you go so far over budget on your holiday spending last year that you didn not pay off your bills until the Fourth of July? If yes, then this post is definitely for you."
Andrea from So Over This presents Avoid Travelocity and Their Poor Customer Service, and says, "I have explained in previous posts that I am one to rant, and this is my soapbox from which I stand. I feel like I am a magnet for poor customer service, and all the headaches that come with it."
Lenny from Best Money Saving Blog presents Practically Guarantee a Loan Application Approval with These 5 Steps, and says, "Getting your loan approved is not as easy as it used to be. Lenders across the UK, and the world, have become much more strict since the financial crisis, and loan applicants must work harder than ever before if they want their loan application to be approved."
Amy from Money Mishaps presents Online and Mobile Retail make Black Friday practically obsolete, and says, "Ladies and gentlemen, here is a certifiable fact; marking down prices for Christmas is an American tradition. Here is another fact that is a bit newer; today, those markdowns and bargains come right to you at home so there is no need to actually go to the store to get them."
Jack from Money Saving Ethics presents Holiday Travel Tips 2013, and says, "If you are planning to travel this holiday season? If so, you definitely should start making plans as early as possible because, as most of us know, traveling during the holidays can be expensive, tiring and stressful."
Matt from Budget Snob presents If you haven't started thinking about your year-end finances, now's the time to get started, and says, "As we move towards the end of the year it is definitely time to start thinking about your year-end financial planning. Things like taxes, open enrollment options at work and reassessing your overall financial plan should be done before January."
Eric from Narrow Bridge Finance presents Which Tax Filing Method is Right for You?, and says, "The year is almost over, and you know what that means… tax time is coming. People can start filing their 2013 income taxes on January 31st, so it is time to get your tax forms in order and decide how you will file in 2014."
Oscar from Money is the Root presents Financial Moves to Make before Year's End, and says, "While many of us are concentrating on holiday shopping, football and getting ready to celebrate, this is also the time of year to get your financial life in order and be financially ready for 2014."
Glen from Glennalicious.org presents Can I Sue My Landlord?, and says, "Do you think your tenant's rights have been violated? Or maybe your landlord has breached the terms of your lease? From uninhabitable living conditions to your landlord ignoring your requests for repairs, can you sue your landlord? If so, this guide will teach you how to do prepare for court."
Mark Wang from The Money Mail presents Five Questions That Must Be Answered When Taking Out a Mortgage, and says, "We all have question in our mind when we are going for our first home purchase and many of these questions revolve around the use of mortgages. Which type of mortgage should I go for? Are there any prepayment penalties? What will my monthly payment be? In this article lets discuss some of the keys questions your should ask before taking out a mortgage. Most of these questions are also applicable if you are going for refinancing. "
Mario from Debt BLAG presents How buying in bulk can cost MORE money, and says, "I walk through multiple circumstances in which buying in bulk might cost MORE money, and give some examples"
Marissa from Finance Triggers presents How to spot a good mortgage broker from a bad one, and says, "How can you decide if a mortgage broker is a good one or a bad one? The best way is to learn the answers to these questions."
What are your plans for 2014? Share them. No modesty allowed.
You like this carnival? Be sure to submit your articles for next week's edition, using the following submission form.